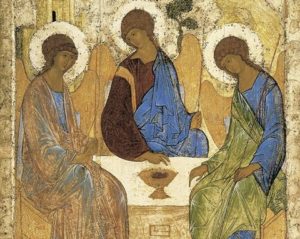 Kabbalah Workshops with Maggy Whitehouse

Paint Your Own Tree of Life and/or Jacob's Ladder 
Dates: 2nd & 3rd June 2018. Location: Devon, England
A two-day practical workshop to paint your own Tree of Life or Jacob's Ladder (see pictures). This is a meditative process that not only helps you to understand these ancient diagrams of the Patterns of Creation but also helps heal aspects where you may be out of balance in your own life.
We will spend both days designing, drawing and painting the diagrams and the great thing is that absolutely no artistic talent is required!
Neither is any previous knowledge of Kabbalah.
You can choose whether to paint one large picture on canvas or two small ones. All canvas, pens and paint provided together with all the guidance you need and mystical interpretation and teaching where appropriate.
Over the last decade, Maggy Whitehouse and her husband, Lion Dickinson, have run Tree-
making workshops in the UK and USA that included folk with Parkinson's and with Cerebral Palsy so almost anyone can do it. However, fully healthy folk do manage it faster!
The workshop will be in the location of South Zeal or Chagford, Devon, depending on numbers.
Teas and treats and a simple vegetarian lunch provided.
Cost: £95. MAXIMUM eight people (five places left as of 10th May).
There are plenty of lovely B&Bs nearby. Our workshop guests say that their favourite is Gooseford Farm, just half a mile down the road. Click here for their details (and no, we don't get any payback from Mary! 🙂 )
Contact: maggy@maggywhitehouse.com for more details.
Kabbalah and Astrology (London)
23rd June 2018 at Atlantis Bookshop, Museum Street, London WC1A 1LY.
This one-day workshop examines how the astrological world co-exists with the Tree of Life. Understanding the one enhances the comprehension of the other.
In Kabbalah, the Moon represents ego consciousness, the Sun, the true self and the meld of Sun, Mars and Jupiter, the nature and calling of the Soul.
We will look at the correspondences between the Tree of Life, the planets and the zodiac and participants will place their own astrological chart onto the Tree of Life to discover their strengths and weaknesses, the nature of their 'pain body' and the unfolding of their Soul's destiny.
Booking details via Atlantis Bookshop at atlantis@theatlantisbookshop.com. Tel: 0207 405 2120.