The Divine Feminine in the Western Mystery Tradition
with Maggy Whitehouse, author of Kabbalah and Healing, Total Kabbalah andA Woman's Worth – the Divine Feminine in the Hebrew Testament.
"In the beginning the Elohim created the Heavens and the Earth."
Elohim, the Divine Feminine, is present throughout the Bible but, as part of the oral Perennial Wisdom Tradition, she is hidden. She is meant to be hidden — to be discovered only by those who are ready to understand her power.
The development of the human soul is revealed throughout the Hebrew Testament in stories of love, hate, adultery, deception, betrayal, murder, compassion and redemption —a blockbuster told by more than 20 generations of feisty and powerful women, every one of whom still has something to teach us today.
Maggy will weave the story of Sophia, the feminine wisdom tradition from Shekhinah to Mary Magdalene through the filters of Judaic mysticism, history and social customs to see what we can still learn from the Matriarchs and Heroines today. Each of them is an archetype within us and can show us our strengths – and our shadow.
Men are most welcome at this workshop – it is about the feminine not the female!
Rev. Maggy Whitehouse is a minister in an independent church who has been studying and teaching Kabbalah in the UK, USA and Europe for 30 years. She is the author of 20 books, a stand-up comedian and radio presenter.
"Maggy Whitehouse is, undoubtedly, the foremost Kabbalistic teacher and author alive on the planet. She brings clear eyes, deep thought and a loving heart to the mysterious process of unlocking wisdom from its ancient vaults. Let her entertain you, embolden you and awaken you to the power of your own essential nature"
— Professor Peter Bolland, Chair of Philosophy at Southwestern College, San Diego.
Date: 18th February 2023 – Devon. Email maggy@maggywhitehouse.com
Date: 25th February 2023 – Atlantis bookshop, London. Email atlantis@atlantisbookshop.com
Date: 5th May 2023 – Devon. Email maggy@maggywhitehouse.com
Price: £50
La Convivencia: A Three-day workshop for Passover and Easter 2023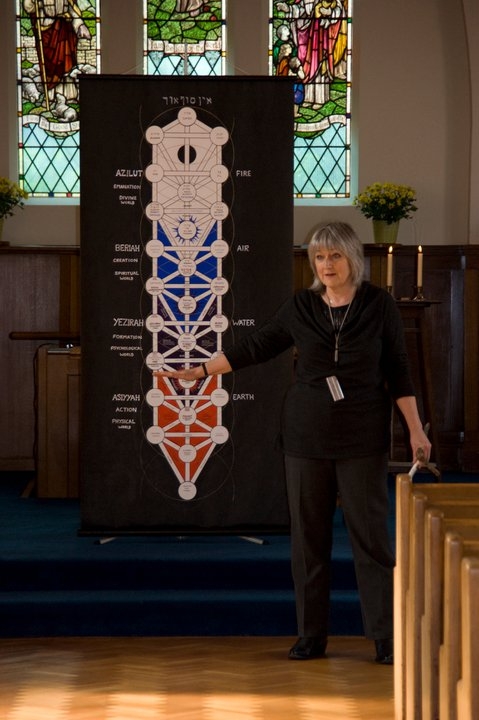 A three-and-a-half day workshop in Devon, to study the Kabbalistic teachings within both Passover and the Crucifixion.
We will share a Kabbalistic Seder and enjoy the beauty of Devon as well as following the journey of the Exodus, of betrayal, death and resurrection as metaphors for our own spiritual journey
With teaching, exercises and internal journeys, we will experience the levels of slavery, awakening, Exodus, betrayal, crucifixion, death and resurrection.
Both Testaments of the Bible are filled with mystical teachings which not only serve to bring us into relationship with the Holy One but teach us how to rise out of personal or societal slavery and take the Hero's Journey to our own soul's Promised Land.
All humans will face betrayal in their lifetime and the Easter story is a Kabbalistic masterpiece of experiencing the levels of the Tree of Life as we move towards Grace and transformation. This is not a selfish act for if we will not transmute our own pain we will surely transmit it.
We will see how each of the four Gospels represents one world of Jacob's Ladder and how we, too, are called to be prophets of healing.
Teachers: Maggy Whitehouse and Adam Simmonds.
La Convivencia was the name given to the time when Spain was under Moorish rule and both mystics and scholars from within Judaism, Islam and Christianity studied together.
Dates: 6-9pm Wednesday 5th April 2023.
10am– 5pm Friday 6th April – Sunday 9th April 2023.
Price: £350, including Seder supper with wine or fruit juice, simple vegetarian lunches and refreshments.
Location: Meeth, Devon – between Dartmoor and Exmoor. Nearest train station: Okehampton.
There are many lovely places to stay locally, from Airbnb rooms and cottages to shepherd huts.
For more details, please email Maggy at maggy@maggywhitehouse.com.
Maggy Whitehouse is an independent sacramental minister, a lifetime student and teacher of Kabbalah in the Toledano Tradition, the author of 20 books on spirituality, Kabbalah, prosperity consciousness and Bible metaphysics — both factual and fiction — and started out as a stand-up comedian at the age of 56.
 She is co-pastor of the Community of Prodigals has been widowed, divorced, healed from cancer, worked as a hospice chaplain, ridden on a Bengal tiger and survived a barracuda attack off the Barrier Reef.
Both Maggy's mother and her Bishop think she should get a proper job.
Adam Simmonds is the author of the Spirit of Kabbalah blog
Adam has been teaching and studying Kabbalah and esoteric spirituality for 30 years.  Born in London (UK), Adam grew up within a conventional Jewish family.  It was in his early 20s, following a protracted period of illness, that he first discovered what he describes as his 'real' spirituality, beginning with Zen and later Sufism. He eventually found his teacher and embarked on the Kabbalistic journey that continues to the present day.
Over the years Adam has taught Kabbalah one-to-one, given talks and presented workshops in both the UK and Spain, and for 10 years co-directed a weekly group at his home in Hertford. He also ran workshops at the first ever Queer Spirit Festival in Wiltshire in 2016.  His secret talent is teaching Advanced Level English Literature.
Adam's sequence of poems, Ganymede, was published in 2006 by the Perdika press.