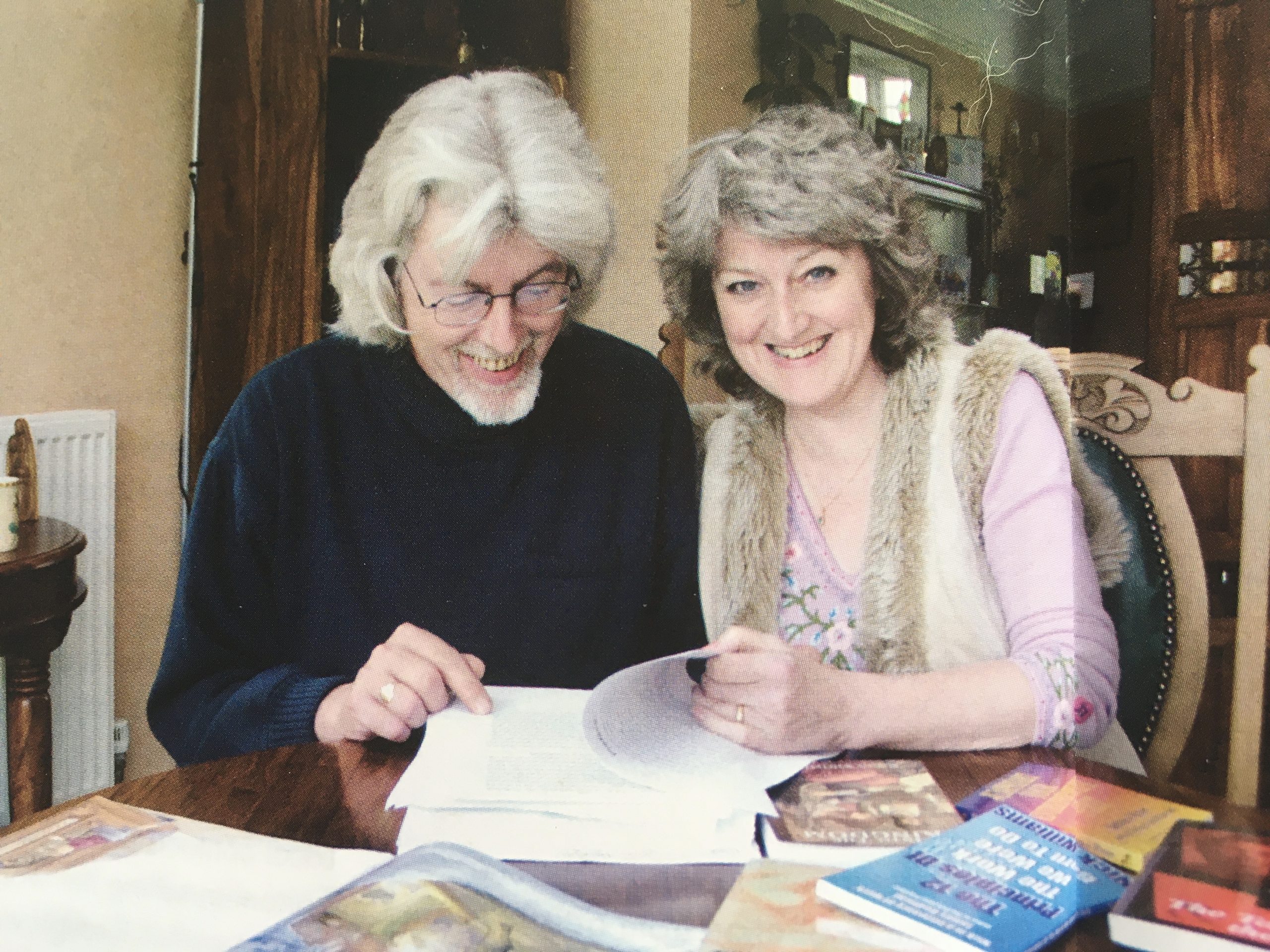 An astrological chart with Maggy and her husband, Kabbalistic astrologer, Lion Dickinson, is a wonderful way to get to know yourself better. Through your astrology you can understand your strengths and weaknesses—realise how and when you manage to shoot yourself in the foot—and gain both confidence and inspiration to move onwards and upwards. 
Kabbalistic Astrology focuses on the destiny and calling of your soul … and how to dissolve the ego's resistance.
"My astrological session with Maggy and Lion was like being taken by the hand and helped to understand my own soul more clearly, and the journey that I had been on so far, where I was now and where I could well be headed. It was a loving, enlightening and re-assuring experience. They are both extremely knowledgeable, but even more importantly they impart their knowledge of your journey to you in language that makes sense." – Nick Williams, author of seven books including The Work We Were Born To Do and co-founder of I am Nick Williams.com
"I had no idea how accurate this reading could be, or how powerful. Maggy and Lion held a big shiny mirror up to me and gently showed me where I am and my potential for moving forward. They showed me a big, detailed and coherent picture that contributed more to my self-knowledge than anything I've ever done before and I now have the tools I need to move forward with clarity and confidence. Also, there were quite a few giggles during the Skype session. Always a good thing."—Cheryl Smith.
We all need reassurance that we are on the right path and, if we are not certain where we want to go next, it can be incredibly helpful to have someone take our hand and show us exactly what our soul is calling for us to be and to do.
It's also important to understand the nature of inbuilt pockets of resistance to our spiritual path that may have held us back for so long. Bringing those to consciousness is more than half-way to dissolving them.
Astrology is neither a science nor an art although it has elements of both; it's a language. Your astrological chart is your soul's blueprint—your spiritual footprint in the Universe. Your life's path is laid out in this language of the heavens.
Lion (aka Peter Dickinson) and Maggy are fluent in that language and can translate it for you in ways that will nurture you and lead you to a fuller understanding of the extraordinary levels of your psyche.
Highlighting the areas where you habitually struggle and the pockets of resistance that can impede your progress is like bringing oxygen to your soul's lungs. You will be able to centre yourself to receive the inspiration that you need to move on in a fulfilling way.
Astrology is what happens when you don't use free will. You can rise above your chart through consciousness—but that is doubly hard to do when you don't know the subconscious patterning that underpins your life.
In a full Astrology reading with Lion and Maggy you will discover:
Your inherent survival instincts and how they affect your life.
How your ego works and the hidden wounds that may have stopped it serving your emotional and spiritual development.
How to find the kind of work which will both prosper you and make your heart sing.
The nature of your soul's purpose.
Your fate, your destiny and how to use your free will.
The 'red flag' times where important decisions need to be made.
The inner patterns that reveal why your relationships do or don't work.
It will also show why you do that all the time when you'd rather do this. It can clear blocks to love, spirit, work and family. It can give you guidance as to how the next few years may look. It's a guide and a revelation of who you really are under the clutter of training and everyday life.
The Western Mystery Traditions believe that you are born at a certain time and in a certain place for a reason. It's part of your soul's development to be here, now and to be working with certain energies.
A Natal astrological chart can change within minutes as planets change signs and houses. Even twins born a couple of minutes apart can have charts that are significantly different.
People who are close to you nearly always have astrological charts that correspond with yours and families are fascinating in their synchronistic charts.
Peter Dickinson is a former astrologer for Prediction magazine. He learnt astrology with Jon Cooper Taylor of the Astrological Association and has studied Kabbalah for more than 20 years. Maggy is the intuitive.
They only do charts face-to-face or via webinar software. A reading will take approximately an hour and a half.
All chart readings are recorded and will be sent to you in MP3 format via file transfer on the internet.
Birth Chart: £195
A full reading of your astrological blueprint and what it means for you today. This will help you understand how you got to where you are in life and what can be changed to assist in your happiness and growth. Many of us don't realise how much we run patterns on automatic which may not be to our benefit. Your chart will point these out and give you opportunities to access your free will for positive changes. You may also come to understand how you've done so well so far! Charts can be seen as 'difficult' or 'easy' but quite frequently those with a 'difficult' chart are those who have learnt to take hold of life and make the best from it whereas those with an 'easy' chart may find life's natural crises (loss and bereavement for example) harder to handle. As always, knowing yourself is the key to happiness.
Birth Chart with Year Ahead: £250
This chart will help you to get to know yourself at a much deeper level and help you to understand why you are who you are. It will offer valuable guidance as to how best to use your astrological blueprint for happiness, love, success and peace of mind. It also looks at the transits and 'red flag events' that are coming up for you in the next 12 months to guide you through easily and safely. Some transits are seen as positive and some as negative but all can be incredibly useful for personal and spiritual growth. If you are where you need to be, nothing may happen; if your soul feels you need a nudge then that's what you'll get. It's very helpful to know what indications are coming so you can make whatever changes might be needed to allow the planets to help you (which they will).
Year Ahead Only: £99
This chart looks at how the outer planets are transiting your natal chart. This highlights red-flag periods in your life when action, a re-think or re-organisation may be required in order to follow your soul's path. Most people intuitively come for an astrological reading when there are significant transits but it's always good to take a look at the year ahead on a regular basis. Astrology is only what happens when you don't use your free will; but it's good to know when the energies are behind you and when they may be slowing you down. We prefer to do Year Ahead Charts for people who have already had their natal chart done.
Relationship Chart (for couples): £350.
This is the chart for couples who want to understand each other better. It will help you realise why you react the way you do; how to overcome habits and issues which may be holding the relationship back and how to make this the spiritual and loving union you always hoped it would be.
Starting a Business Chart: £350.
This chart will meld your own birth data with the proposed or existing start-date of your business. Our relationship with our work is just as important as our relationship with other people and when you are setting up in business, the ego's temptation can be to pick a date that means your work will reflect all your self doubts! This is easy to circumvent and, if your business is already up and running, it is possible to adapt to the blueprint of the business to serve you—and the world—better.
And also—a Simpler Chart!
StarLight Soul Purpose Astrology
with Maggy Whitehouse.
This is a simplified look at your astrological chart which helps you to discover the nature and purpose of your Soul as opposed to the training and mindset of your Ego. This understanding can really help in ironing out life's repeating problems and challenges. You'll learn how your Ego (the everyday, repetitive, tribal mind) is either supporting or opposing your Soul's growth—and how, if necessary, you can turn the situation around.
In the Western Mystical Tradition, the Soul is represented by the meld between Sun, Mars and Jupiter in your astrological chart. The Ego is represented by the position of the Moon.
A Soul Purpose Astrology session costs £75 and lasts approximately 45 minutes to an hour. It is not a full astrological chart and it does not look at your transits for the year ahead. However, if there is a specific issue you are concerned about, it will look wider than just the planets mentioned. A chart can be done in person or via Skype. You will receive a recording of the session in MP3 format.
What you will need for any chart:
You'll need to know your date, time and place of birth. If you don't have the time a chart can still be done but it won't be quite as accurate.
To book an astrological reading please email maggy@maggywhitehouse.com or call 01647 231714.
General Data Protection Regulation
Here at StarLight Astrology we take your privacy seriously and will only use your personal information to provide the products and services you have requested from us.
From May 25th 2018, we are required to comply with new EU laws which concern anyone who processes personal data on a computer. The new regulations are designed to safeguard individual privacy. By submitting your birth data (your name, birthdate, time and place of birth), either verbally, by email, by letter or any other form of transmission, you confirm that you have understood the information on the Privacy Policy page, with especial reference to the Astrology section, and consent to the use of your data as described. The summary below clarifies how your data is handled in the course of our contact with you and in our work in general:
Data held by

 

StarLightAstrology (Maggy Whitehouse and Peter Dickinson) is never sold, shared or passed on to anyone else for any reason.

No other person has access to your data, in whatever form it is held.

A

ll or any specific items of data can be erased on request.

No data is acquired from any source other than personal communication.

Only necessary data is held to enable fulfilment of requests for astrological work.
For the full text, please go to the Privacy Policy page.